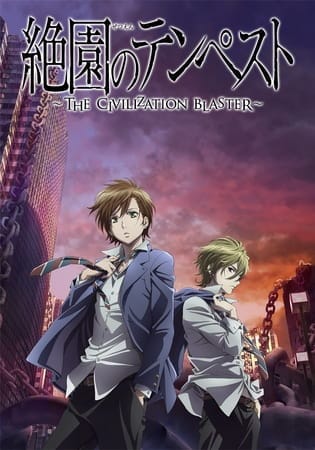 Score: 8.09/10
Zetsuen no Tempest | 80MB | 720p BD | Download Links | [Complete]
Summary:
Hakaze, princess of the Kusaribe mage clan, has been betrayed and marooned on an island by her own people. They seek to revive the Tree of Exodus, an incomprehensibly powerful entity of alien origin, to save the world from the tyranny of its antithesis: the Tree of Genesis that powers their magic. Hakaze, however, believes their efforts put humanity in jeopardy; and with her power limited, she can only reach out to the world to beg for aid. Her call reaches Mahiro Fuwa, a young man grieving the mysterious death of his sister, Aika. He and his friend Yoshino agree to help - on the condition that Hakaze track down Aika's killer with her magic. The deal is made, and the battle that will determine civilization's fate is begun: but who will play the part of its villain, and who its savior?
Resolution: 1280 x 720 pixels | Size: 80MB/Episode | RAW Source: BD-Rip
Display aspect ratio : 16:9 | Bit depth: 8 bits
Frame rate mode: Constant Frame Rate (27.0)
Audio: Japanese (Vorbis) | Subtitle: English (.ass)
Note: Video File Quality may very from the Images used in the Review Section.
---
Download Links
Episode 01

Episode 02

Episode 03

Episode 04

Episode 05

Episode 06

Episode 07

Episode 08

Episode 09

Episode 10

Episode 11

Episode 12

Episode 13

Episode 14

Episode 15

Episode 16

Episode 17

Episode 18

Episode 19

Episode 20

Episode 21

Episode 22

Episode 23

Episode 24