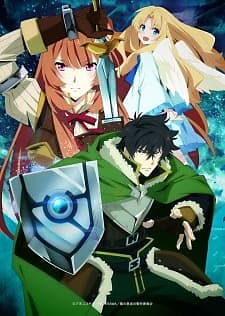 Score: 8.39/10
Tate no Yuusha no Nariagari | 80 MB | 720p BD | Download Links | [Complete]
Summary:
Stories of old tell of four otherworldly heroes—wielding the sword, spear, bow, and shield—who defended the land from wave after wave of calamity. With the fate of the world in balance, the kingdom of Melromarc summons these legendary figures; in modern-day Japan, the call is answered, and the unwitting heroes are transported to this fantasy universe. Thrust into Melromarc and given the title of "Shield Hero," otaku Naofumi Iwatani is labeled the weakest due to his lack of offensive capability and apparent inexperience. When the heroes part ways to start their journeys, he only has one willing companion: the beautiful princess Malty Melromarc. However, she soon betrays him, steals all his money, and accuses him of taking advantage of her. For his alleged crimes, Naofumi is branded a criminal and made outcast of society. With hatred filling his heart, he sets out alone, vowing vengeance against those who wronged him.
Resolution: 1280 x 720 pixels | Size: 100MB
RAW Source: BDRip [Cleo]
Display aspect ratio : 16:9 | Bit depth: 8 bits
Frame rate mode: Constant Frame Rate (27.0)
Audio: Japanese (Vorbis) | Subtitle: English (.ass)
The overall story is pretty generic. Some person or group gets zap to a fantasy game like world. They have to do xyz to get out. During the time they can pretty much live their life like they want. The difference between this and the number of others that went down this path is unlike most of the other stories. The main person is starting from the very bottom, and the world they are trying to protect hates them. There is some of where the girls around him are wanting to sleep with him. But up to late, it really didn't show at all, and I suspect it won't get much deeper outside a few ep in the future.
Note, one thing I'm not a fan of is how the main person is able to overcome mostly everything. It is starting to feel like they are moving to God like than someone struggling and in real danger. Like it is the one trap many shows fall into where the main person is way too OP sooner or later. I most likely won't edit this review. But assuming the main person keeps becoming more and more OP. I can see this becoming more and more boring. This is the problem I'm running into with other shows like that time I got reincarnated as a slime. Like if they want to go down the path of mostly everything ends up being about the fight/adventure. Then I need to feel there is a real chance that people can get hurt or die. Where right now it's just annoying until the person gets cured.
Side note to anyone making any anime
If they want to keep making the main person more and more OP. Then I suggest any future anime makers take note and make the show about something other than the adventure/fight. With no risk, it's boring. But if the anime starts focusing on the social aspects. Then this could be worth while even with the main person being OP.
But to have a great show, you need to mix the 2. Re:Zero is a good example (even if it's not perfect). There is a real risk the main person will die (and they tend to do). But it also looks at the social a bit. Re:Zero messes up because they don't use logic. In that one, the main person could simply make some easy painless poison, and use that as a reset since all the actions of EVERYTHING should be 100% the same as before.
Download Links
Episode 01

Episode 02

Episode 03

Episode 04

Episode 05

Episode 06

Episode 07

Episode 08

Episode 09

Episode 10

Episode 11

Episode 12

Episode 13

Episode 14

Episode 15

Episode 16

Episode 17

Episode 18

Episode 19

Episode 20

Episode 21

Episode 22

Episode 23

Episode 24

Episode 25

Sequel