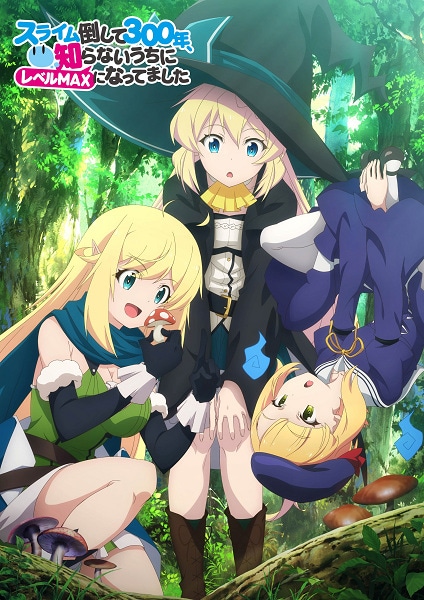 Score: 7.10/10
Slime Taoshite 300-nen, Shiranai Uchi ni Level Max ni Nattemashita | 80 MB | 720p | Download Links | [Complete]
Summary:
Suddenly dying from overwork, salarywoman Azusa Aizawa finds herself before an angel, who allows her to reincarnate into a new world as an immortal witch, where she spends her days killing slimes for money on an otherwise eternal vacation. But even the minimal experience points from slimes will add up after hundreds of years, and Azusa discovers that she accidentally reached the maximum level! Fearing that her strong abilities will attract work and force her back to a life of overexertion, she decides to hide her strength in order to preserve her peaceful lifestyle. Despite her efforts, tales of the max level "Witch of the Plateau" spread across the land, and a proud dragon named Raika shows up looking to test their strength against her. Even though Azusa defeats and befriends Raika, problems arise as both friends and foes come looking for the secluded witch.
Resolution: 1280 x 720 pixels | Size: ~80MB
RAW Source: TV-Rip [SubsPlease]
Display aspect ratio : 16:9 | Bit depth: 8 bits
Frame rate mode: Constant Frame Rate (27.0)
Audio: Japanese (Vorbis) | Subtitle: English (.ass)
An at-home comedy about a powerful girl who doesn't work too hard!(⋈◍ ˃ᴗ˂ ◍)。✧♡
---
After dying of overwork in the real world, I'm reincarnated as an immortal witch, and I spend 300 years enjoying a relaxing life. At some point, though, I end up at level 99! All those years spent killing slimes to make the money to pay the bills gave me a ton of experience points… Rumors of the level 99 witch spread, and soon I'm up to my ears in curious adventurers, duelist dragons, and even a monster girl calling me her mom! "This isn't a dojo, so don't come here to fight me…!"
---
I've never been on an adventure, but I'm the strongest in the world… What's going to happen to my relaxing life?!
Download Links
E01

E02

E03

E04

E05

E06

E07

E08

E09

E10

E11

E12 END