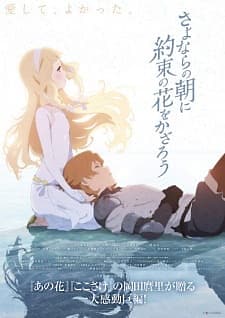 Score: 8.5/10
Sayonara no Asa ni Yakusoku no Hana wo Kazarou | 300 MB | 720p BD | Download Links | [Complete]
Summary:
Maquia is a member of a special race called the Iorph—mystical beings who can live for hundreds of years and remain separate from the lives and daily troubles of mankind. However, Maquia has always felt lonely despite being surrounded by her people, as she was orphaned from a young age. She daydreams about the outside world, but dares not travel from her home due to the warnings of the clain's chief. One day however, the outside world finds her, as the power-hungry kingdom of Mezarte invades her homeland. They already have what is left of the giant dragons, the Renato, under their control, and now their king wishes to add the immortality of the Iorph to his bloodline. The humans and their Renato ravage the Iorph homeland and kill most of its inhabitants. Caught in the midst of the attack, Maquia is carried off by one of the Renato that has gone berserk. It soon dies, and she is left deserted in a forest far from home, now truly alone save for the cries of a single baby off in the distance. Maquia finds the baby in a destroyed village and decides to raise him as her own, naming him Ariel. Although she knows nothing of the human world, how to raise a child that ages much faster than her, or how to live with the smoldering loneliness inside, she is determined to make it all work somehow.
Resolution: 1280 x 720 pixels | Size: 365MB | RAW Source: BDRip
Display aspect ratio : 16:9 | Bit depth: 8 bits
Frame rate mode: Constant Frame Rate (27.0)
Audio: Japanese (Vorbis) | Subtitle: English (.ass)
All living things are designed to end, no matter hard or cunted thing you do life cannot be changed but the interaction/relationship between others will change your life for sure. (that what I learned from this anime.) ( ˃̣̣̥ω˂̣̣̥ )
So I don't even know the last time I wrote a review, nothing has given me the effort to write a review on an anime, nothing has moved my feelings but Maquia as changed my view on how valuable and fragile life is, no matter if you like being alone, there's always need to be a person supporting you.
-Story - 9/10 - It was really depressing but I could have been worse (It's legit a better version of wolf children "no offense)
- Animation - 10/10 - Top shit nothing was lacking to compete with other masterpiece anime (like Your name, Silent voice, etc 
- Sound - 6/10 - there was nothing special about music or bgm but the ending music wrapped the whole anime up.
- Character - 10/10 - Out of the four rating character is by far the best element to make this story wonderful.
マジで 神アニメぜたい見に行った方がいい。 てゆうか Maquiaちゃんめちゃ可愛いい。