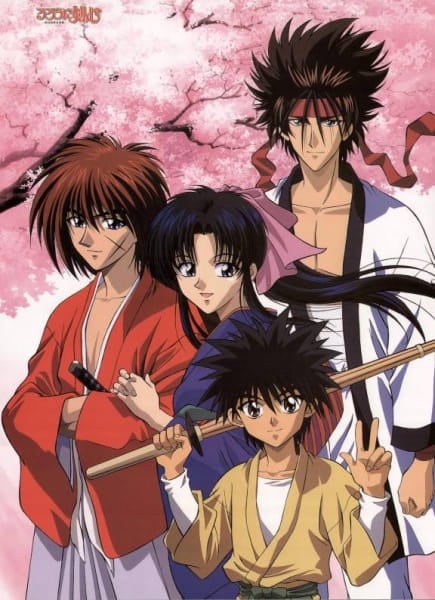 Score: 8.39/10
Rurouni Kenshin: Meiji Kenkaku Romantan | 80MB | 960p | Dual Audio | Download Links | [Complete]
Summary:
In the final years of the Bakumatsu era lived a legendary assassin known as Hitokiri Battousai. Feared as a merciless killer, he was unmatched throughout the country, but mysteriously disappeared at the peak of the Japanese Revolution. It has been ten peaceful years since then, but the very mention of Battousai still strikes terror into the hearts of war veterans. Unbeknownst to them, Battousai has abandoned his bloodstained lifestyle in an effort to repent for his sins, now living as Kenshin Himura, a wandering swordsman with a cheerful attitude and a strong will. Vowing never to kill again, Kenshin dedicates himself to protecting the weak. One day, he stumbles across Kaoru Kamiya at her kendo dojo, which is being threatened by an impostor claiming to be Battousai. After receiving help from Kenshin, Kaoru allows him to stay at the dojo, and so the former assassin temporarily ceases his travels. Rurouni Kenshin: Meiji Kenkaku Romantan tells the story of Kenshin as he strives to save those in need of saving. However, as enemies from both past and present begin to emerge, will the reformed killer be able to uphold his new ideals?
Resolution: 1280x960 pixels | Size: 80MB/Episode | RAW Source: Dual Audio
Display aspect ratio : 4:3 | Bit depth: 8 bits
Frame rate mode: Constant Frame Rate (23.976)
Audio #1: English (AAC) | Audio #2: Japanese (AAC)
Subtitle #1: English OP-ED (.ass) | Subtitle #2: Full English (.ass)
This is one of the greatest anime series I have ever seen. I have been introduced anime on relatively recently...1997 at earliest. In that time, I've gotten my hands on a number of really good and really bad shows. Kenshin is definitely among the best.
The dynamic emotions of Kenshin himself as well as the mix of humor and philosophy of life vs. death in the show make it exceptionally entertaining and captivating.
The mutual devotion between Kenshin and his friends, Kaoru, Sanoske, Yahiko, etc... is amazing to watch as it develops and is put to the test.
The sadistic enemies, and the foolish ones, all provide foils that drive the plot and cause the viewer to be moved as Kenshin struggles to throw off his murderous past in favor of a life defending his honor, his friends, and the innocent.
If you are a long time anime-buff, or a new fan of the genre...this series is a must-see.
Download Links
Episode 01

Episode 02

Episode 03

Episode 04

Episode 05

Episode 06

Episode 07

Episode 08

Episode 09

Episode 10

Episode 11

Episode 12

Episode 13

Episode 14

Episode 15

Episode 16

Episode 17

Episode 18

Episode 19

Episode 20

Episode 21

Episode 22

Episode 23

Episode 24

Episode 25

Episode 26

Episode 27

Episode 28

Episode 29

Episode 30

Episode 31

Episode 32

Episode 33

Episode 34

Episode 35

Episode 36

Episode 37

Episode 38

Episode 39

Episode 40

Episode 41

Episode 42

Episode 43

Episode 44

Episode 45

Episode 46

Episode 47

Episode 48

Episode 49

Episode 50

Episode 51

Episode 52

Episode 53

Episode 54

Episode 55

Episode 56

Episode 57

Episode 58

Episode 59

Episode 60

Episode 61

Episode 62

Episode 63

Episode 64

Episode 65

Episode 66

Episode 67

Episode 68

Episode 69

Episode 70

Episode 71

Episode 72

Episode 73

Episode 74

Episode 75

Episode 76

Episode 77

Episode 78

Episode 79

Episode 80

Episode 81

Episode 82

Episode 83

Episode 84

Episode 85

Episode 86

Episode 87

Episode 88

Episode 89

Episode 90

Episode 91

Episode 92

Episode 93

Episode 94

Episode 95