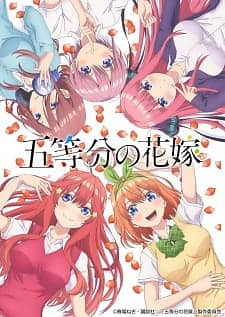 Score: 7.60/10
Gotoubun no Hanayome | 80 MB | 720p | Download Links | [Complete]
Summary:
A high school romantic comedy with five times the cute girls! A high school boy must work part-time to help five sisters study so they can graduate, but the only thing these quintuplets have in common is that they all hate studying! Five girls who want to do anything but study, and their tutor: a high school boy who's got book smarts and not much else. Fuutarou Uesugi took the tutoring gig because he was desperate for cash, but when his students—the five beautiful daughters of a wealthy businessman—find five times the excuses to slack off, what can he do?! At this rate, the sisters won't graduate, so if he wants to get paid, Fuutarou must think of a plan to suit each of them… Which feels hopeless when five out of five of them think he's a loser!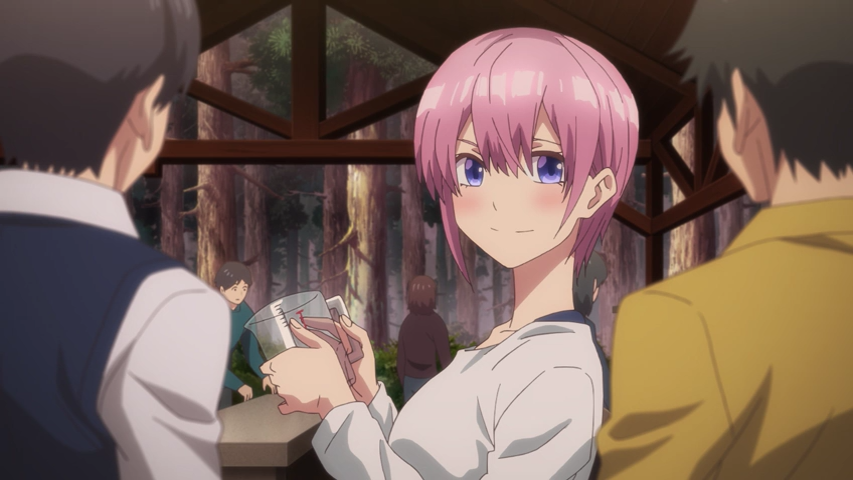 Resolution: 1280 x 720 pixels | Size: 80MB/Episode | RAW Source: TV-Rip
Display aspect ratio : 16:9 | Bit depth: 8 bits
Frame rate mode: Constant Frame Rate (27.0)
Audio: Japanese (Vorbis) | Subtitle: English (.ass)
Hi, welcome to the program! Now get ready for Japan's favorite television series: the "Pick You Waifu Game."
***Audience applause***
We have a beautiful cast of women up for selection today, plus get this — they are quintuplets! So no matter who you pick, you'll receive the scorn of the other four for a lifetime; or, maybe if play your cards correctly, you'll find yourself in one awesome harem.
***Audience, "oooohhhhhhh"***
Without further ado, let's introduce the gorgeous women who "hope" to be chosen by Fuutarou (a prodigious student with excellent marks):
Itsuki Nakano — While her proclivity to eat copious amounts of delicious food have led to pudgy "love handles," she offsets the unsightliness with her formal demeanor and her adorable glasses. But be warned, if you betray her, she is one known to hold a grudge.
Ichika Nakano — The "eldest" sister of the quintuplets, Ichika, is a frisky girl with a bold demeanor to match. Her room is habitually messy with her sexy lingerie (like a black nightgown) just casually lying on the floor. Also, she tends to sleep in the nude. She's the sort of girl you sleep with once, and never call again (unless you're desperate).
Nino Nakano — A nefarious bitch who will drug without a second thought. Her coarse, domineering personality will certainly be daunting to handle, so best steer clear of this psycho nut-job.
Miku Nakano — Best girl! Always go with the girl in headphones. There's less of a chance they'll nag you to death — certified fact. Her natural interests include video games (score!) and Japanese history (particularly warlords). She does, however, exhibit an aloof personality, and seems unwilling to ingratiate herself with other girls her age (double score!).
Yotsuba Nakano — A cheerful girl, awash with positivity. Her over-the-top perkiness can be a bit of a turn off, but, well…yeah, it's just a turn off.
By the way, all five sisters are incredibly "stupid" and require a significant amount of tutelage to avoid being forced into a career position at a fast-food restaurant. But who cares when they're all well-endowed with filthy rich parents, amirite?
So, the question remains: which one will you chose?
Download Links
Episode 01

Episode 02

Episode 03

Episode 04

Episode 05

Episode 06

Episode 07

Episode 08

Episode 09

Episode 10

Episode 11

Episode 12