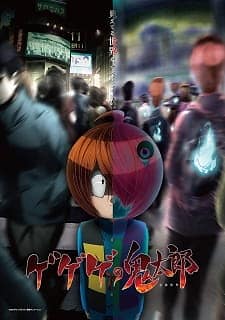 Score: 6.79/10
Gegege no Kitarou (2018) | 80 MB | 720p | Download Links | [Complete]
Summary:
Nearly twenty years into the 21st century, people have forgotten the existence of youkai. When a number of unexplainable phenomena plague adults of the human world with confusion and chaos, thirteen-year-old Mana writes a letter to the Youkai Post in search of answers, only to be greeted by Gegege no Kitarou...
Resolution: 1280 x 720 pixels | Size: 80MB/Episode | RAW Source: TV-Rip
Display aspect ratio : 16:9 | Bit depth: 8 bits
Frame rate mode: Constant Frame Rate (27.0)
Audio: Japanese (Vorbis) | Subtitle: English (.ass)
Anime and spirits have a mixed history of quality. There are plenty of anime about spirits and how they interact with humans, but they have a wide range of quality. From the slow and measured Mushi-shi to the urban fighting anime Yu Yu Hakusho to the ghastly boring Ghost Stories, the choice of spirit anime is broad.
Where does GeGeGe no Kitarou fit in?
First, Kitarou is a childrens anime about the spirit Kitarou, a problem solver who works to keep evil spirits from invading the human world. Kitarou has a recurring cast, many of whom are cute and have interesting Japanese qualities. Kitarous father died and came back as an eyeball, for example. There are human characters, but they are bland compared to the spirit cast.
Second, Kitarou is a weekly monster anime. A threat arises, people are captured or killed, and Kitarou and friends defeat the threat. I appreciate that this anime has the whole cast contribute, as Kitarou often does not have the strength to defeat the threats on his own. Some powers remind me of Yu Yu Hakusho, like Kitarous Finger Blast.
Third, the treatment of the spirits is between Mushi-shi and Ghost Stories. The spirits of Kitarou are more interesting and are explained better than the monsters of Ghost Stories, but the psychology behind the spirits pales next to Mushi-shi. Kitarou works best as an introduction to Japanese spirits, while leaving children the opportunity to learn more about the spirits by themselves.
One notable aspect of Kitarou is the opening and ending. The opening song was written in the sixties and has been used almost continuously since then. The song informs the viewer about the tone of Kitarou while sounding almost like a folk song. The ending song is modern, but is gleeful in its creepy quality.
Kitarou is a fun anime. The cast is entertaining, the spirits are interestingly designed and the music is memorable. The problems are the lack of depth for the spirits, and the lack of compelling story. This works best for children, and children can enjoy this safely (except for one episode).
Download Links
Episode 01

Episode 02

Episode 03

Episode 04

Episode 05

Episode 06

Episode 07

Episode 08

Episode 09

Episode 10

Episode 11

Episode 12

Episode 13

Episode 14

Episode 15

Episode 16

Episode 17

Episode 18

Episode 19

Episode 20

Episode 21

Episode 22

Episode 23

Episode 24

Episode 25

Episode 26

Episode 27

Episode 28

Episode 29

Episode 30

Episode 31

Episode 32

Episode 33

Episode 34

Episode 35

Episode 36

Episode 37

Episode 38

Episode 39

Episode 40

Episode 41

Episode 42

Episode 43

Episode 44

Episode 45

Episode 46

Episode 47

Episode 48

Episode 49

Episode 50

Episode 51

Episode 52

Episode 53

Episode 54

Episode 55

Episode 56

Episode 57

Episode 58

Episode 59

Episode 60

Episode 61

Episode 62

Episode 63

Episode 64

Episode 65

Episode 66

Episode 67

Episode 68

Episode 70

Episode 71

Episode 72

Episode 73

Episoe 74

Episoe 75

Episoe 76

Episode 77

Episode 78

Episode 79

Episode 80

Episode 81

Episode 82

Episode 83

Episode 84

Episode 85

Episode 86

Episode 87

Episode 88

Episode 89

Episode 90

Episode 91

Episode 92

Episode 93

Episode 94

Episode 95

Episode 96

Episode 97