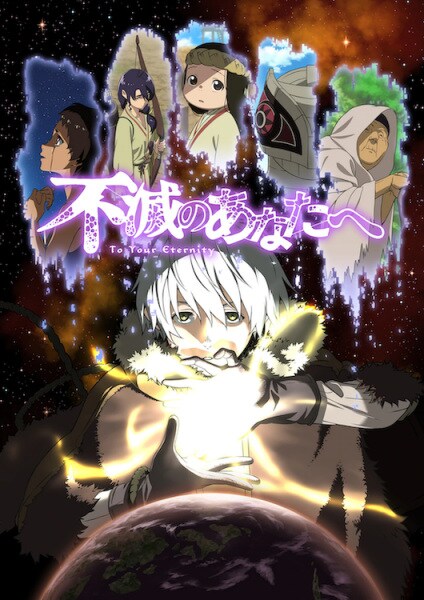 Score: 8.64/10
Fumetsu no Anata e | 80 MB | 720p | Download Links | [Complete]
Summary:
It, a mysterious immortal being, is sent to the Earth with no emotions nor identity. However, It is able to take the shape of those around that have a strong impetus. At first, It is a sphere. Then, It imitates the form of a rock. As the temperature drops and snow falls atop the moss, It inherits the moss. When an injured, lone wolf comes limping by and lays down to die, It takes on the form of the animal. Finally, It gains consciousness and begins to traverse the empty tundra until It meets a boy. The boy lives alone in a ghost town, which the adults abandoned long ago in search of the paradise said to exist far beyond the endless sea of white tundra. However, their efforts were for naught, and now the boy is in a critical state. Acquiring the form of the boy, It sets off on a never-ending journey, in search of new experiences, places, and people.
Resolution: 1280 x 720 pixels | Size: ~80MB
RAW Source: TV-Rip [SubsPlease]
Display aspect ratio : 16:9 | Bit depth: 8 bits
Frame rate mode: Constant Frame Rate (27.0)
Audio: Japanese (Vorbis) | Subtitle: English (.ass)
Anyone who has read or seen Koe no Katachi (A Silent Voice) will recognize the name, Yoshitoki Ooima. To Your Eternity is her latest work that combines her artistic talent woven into a mesmeric story. To describe To Your Eternity is not simple. It's more than just a supernatural drama. It casts an emotional journey following an unique character And without a shadow of a doubt, To Your Eternity is among one of the best series I've seen this year.
Download Links
Episode 01

Episode 02

Episode 03

Episode 04

Episode 05

Episode 06

Episode 07

Episode 08

Episode 09

Episode 10

Episode 11

Episode 12

Episode 13

Episode 14

Episode 15

Episode 16

Episode 19

Episode 17

Episode 18

Episode 20