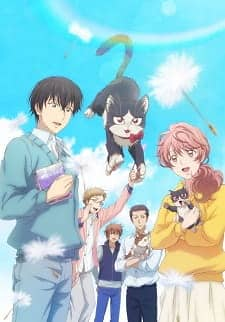 Score: 7.71/10
Doukyonin wa Hiza, Tokidoki, Atama no Ue. | 80 MB | 720p | Download Links | [Complete]
Summary:
The story of Mikazuki Subaru, a novelist who is shy and struggles in relationships with other people, and a cat who was dumped by humans and lived a tough life on the streets. Through a twist of fate, the two of them end up living together. This heartwarming tale illustrates day-to-day life through the eyes of both man and cat. These moments seem trivial, but as they build upon themselves, the two become family and find happiness in their life together.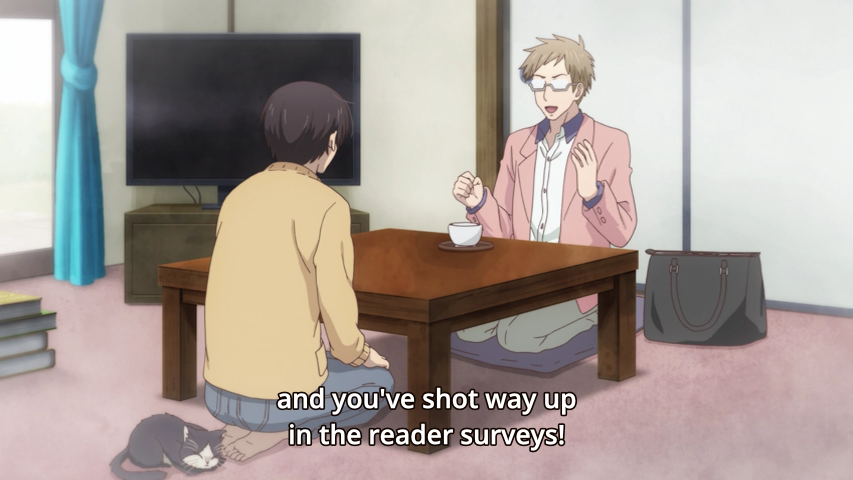 Resolution: 1280 x 720 pixels | Size: 80MB/Episode | RAW Source: TV-Rip
Display aspect ratio : 16:9 | Bit depth: 8 bits
Frame rate mode: Constant Frame Rate (27.0)
Audio: Japanese (Vorbis) | Subtitle: English (.ass)
In short, the show spends about half or 75% following the writer from his point of view, and then the rest is from the cat's point of view. While during the writers point of view the cat is a normal cat. Like it doesn't talk. However, during the cat's point of view you can hear the cat's thoughts and see flashbacks from the cat.
In fact, the one thing I'm wondering is if this based on real life due to the writer thing.
The overall story seems to be how a cat changes an introvert to be a better person, and the person changes the cat to have a better personality.
There honestly isn't much bad I can say about this show. I think the only thing that really bugs me is the main person (the writer) his parents die and it doesn't change him. In fact, the very first part shows the writer is attending his parent's funeral (they died in some bus accident, so it was unexpected). He meets the cat while visiting the grave. But beyond that there is nothing. Like unless if he hated both his parent to start with or it was expected. Then there would be a good mourning period with the average person.
Like think about it. How would it effect you if both your parents who lived with you died in some accident? (there is only 1 real ep they tackle this in a singleaafternoon. But as anyone knows, it isn't a quick thing to get over)
Like they shouldn't of added the parents dying. It didn't really add anything, and it opened up more questions than not. There is plenty of ways of having the 2 meet up that doesn't make the viewer ask why he isn't effected by his parent's death.
Anyways, if you don't like slice of life adult shows. Then you won't like this.
Download Links
Episode 01

Episode 02

Episode 03

Episode 04

Episode 05

Episode 06

Episode 07

Episode 08

Episode 09

Episode 10

Episode 11

Episode 12