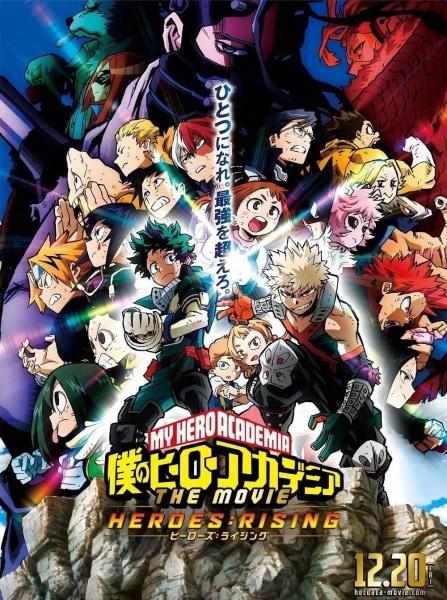 Score: 8.13/10
Boku no Hero Academia the Movie 2: Heroes:Rising | 700 MB | 720p BD | Download Links | [Complete]
Summary:
Izuku "Deku'' Midoriya and his fellow students in Class 1-A of UA High's hero course have been chosen to participate in a safety program on Nabu Island. To further improve their skills and gain experience in more ordinary heroics, the students aid the kind citizens with small services and everyday chores. With the low crime rate in the quiet community, all seems well and good, but the rise of a new villain threatens to put the students' courage to the test and challenge their capabilities as heroes. A merciless villain by the name of Nine is in search of a certain "quirk" needed to fulfill his diabolical plan—creating a society where only those with the strongest quirks reign supreme. As his attack on Nabu Island endangers the lives of the residents, securing the citizens becomes the first priority for Class 1-A; defeating Nine along with his wicked accomplices is also imperative. A straightforward strategy is formulated until a young boy named Katsuma Shimano, whom Deku had befriended, suddenly requires particular protection. Concerned for the boy's wellbeing, Deku and his classmates must now devise a plan to ensure Katsuma's safety at all costs. With Nine wreaking havoc to find the catalyst for his ill-intended schemes and the heroes desperate to defend Katsuma from harm, will Deku and his friends be able to come out victorious, or will they find themselves unable to escape a hopeless situation?
Resolution: 1280 x 720 pixels | Size: ~700MB
RAW Source: BD-Rip [Edge]
Display aspect ratio : 16:9 | Bit depth: 8 bits
Frame rate mode: Constant Frame Rate (27.0)
Audio: Japanese (Vorbis) | Subtitle: English (.ass)
With the second My Hero Academia full length film, Horikoshi went a different direction than he took in Two Heroes, and went above and beyond to deliver to us an action packed sequel in which every member of class 1-A gets a shining moment.
*Some Minor Spoilers Below*
Story wise we find our class stationed on a small Island off the coast of Japan performing hero work for the month. What should have been exercises in keeping the city city safe and solving minor incidences turns more sinister when the island is descended upon by a small group of villains led by leader, Nine.
Nine's quirk is akin to All for Ones in his ability to steal quirks from others, but the way he utilizes them and his fighting style is totally different from our old villain, teamed with his sidekicks we are awarded plenty of interesting fights and team combinations.
The very end of the movie holds a key momemnt that I am sure has divided some fans. Mainly by the way it is done then almost immediately retconned, but it makes for a pretty epic finale.
The animation is top notch, even higher grade than we expect from the climaxes of MHA's story arcs.
Seeing each member of Class 1-A excel in his or her own way is really the greatest part of the film, and it gives me a feeling of nostalgia, as I've watched all of these characters slowly develop their powers and decision making skills up to this point.
Altogetherm I thought it was a great film, even better than Two Heroes. It leaves out some of the quirky setup we get in most shonen anime films, and dives right into actions. We also get a lot of Bakugou, which is nice because if you are following the anime releases right now, we've only just began to see him about halfway through the 4th season.