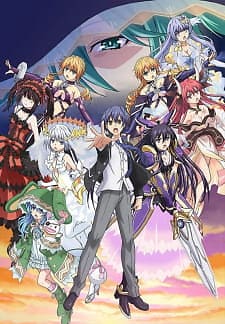 Score: 7.28/10
Date A Live III | 80 MB | 720p | Download Links | [Complete]
Summary:
Itsuka Shidou's life has been a whirlwind as of late. Or more precisely, a spatial quake. Several of them, in fact. Powerful "Spirits" from other dimensions that take the form of girls are unintentionally causing these spatial quakes in his reality. And Shidou is the only one who can stop them with his unique ability: kissing them! By having the girls kiss and fall deeply in love with him, their devastating quake powers are sealed. The alternative to romancing them is to have a more militant and technological organization called the AST (Anti-Spirit Team) destroy the Spirits, something Shidou is vehemently against. So far in the story, six Spirits have fallen for Shidou (as well as a few others). The girls compete with one another and vie for his affection, leaving him no end of headaches and misadventures. But a new challenger approaches.
Resolution: 1280 x 720 pixels | Size: 80MB/Episode | RAW Source: TV-Rip
Display aspect ratio : 16:9 | Bit depth: 8 bits
Frame rate mode: Constant Frame Rate (27.0)
Audio: Japanese (Vorbis) | Subtitle: English (.ass)
Have you ever thought that life is only for dating?
The story begins with a jerk young man who likes cheating when he already has a girlfriend but still wants to look for another named Shidou Itsuka, but jokes. It's back at the beginning Shidou has a mission to date some girls ... but the date he's not dating is normal. this danger is to hasten the spirit that disturbs the earth. This series now has three different studios set in series (Date A Live is sometimes cheating) in my opinion the adaptation of the third series is not much different from the previous series, I conclude that in this series already there is no special anymore. But I appreciate that they are determined to take the risk of making this series.
From the sound quality and character I like the voice part most why because they are very suitable in their respective roles. In this series there are many types or types of characters ranging from "tsundere" to "yandere" but the most awaited and desirable if it's not "Tokisaki Kurumi", this one character is somehow a favorite of many people rather than playing heroin alone (Tohka).
The art of JC. Staff did not seem to be anything special but they were pretty good and they were half-hearted in the advanced adaptation series. In this season Date A Live III had almost the same graphic design compared to previous series, but it was not a big problem, it was covered up with the harem theme which made all the audience jealous of the main character's situation. Overall I really enjoyed the advanced series of Date A Live, and I hope JC.Staff provides a work that can be developed in the future.
Download Links
Episode 01

Episode 02

Episode 03

Episode 04

Episode 05

Episode 06

Episode 07

Episode 08

Episode 09

Episode 10

Episode 11

Episode 12